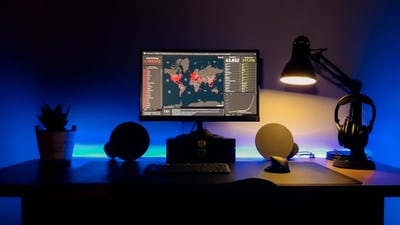 Services that can be used to remedy this issue.
The novel coronavirus (Covid-19) has left us all taking precautionary measures in order to stay covid free. These measures include but are not limited to: work from home orders which limits workplace clusters and helps us to uphold social distancing rules. While we all aim to make our new home office space comfortable, and adapt to our new normal, it is important that we maintain a high level of cyber awareness. It is true that the cyberworld never sleeps, and with knowledge that your valuable data are in your home, cyber criminals will make every effort to exploit weaknesses in the cyber security infrastructure. The list of potential cyber crimes that can affect users in their home are frightening however, there are various remedies for these issues. The services available that can remedy these infuriating cyber attacks includes:
Vulnerability Assessment: A vulnerability assessment identifies threats in an organization and determines all their potential risks. It is a systematic review of security weaknesses in computer systems and network infrastructures. It evaluates if the system is susceptible to any known vulnerabilities, provides the organization with the necessary knowledge of their risks, and helps them to understand and react to threats in their environment. Vulnerability assessment can be used to prevent threats such as SQL injection and other code hacking attacks, and privilege escalation due to faulty authentication mechanisms such as cross-site scripting, improper cookie handling and weak password.
Penetration Testing (Pen Test): This is also called ethical hacking, and is the process of testing a computer system. This is done by launching a simulated cyber attack to expose vulnerabilities in your computer system or network that an attacker could exploit. Penetration testing is commonly used to augment a web application firewall (WAF). The insights provided by a penetration test can be used to fine-tune your WAF security policies and patch detected vulnerabilities.
Data Loss Prevention (DLP): This is a system that ensures that users do not send sensitive information outside of the corporate network. Data Loss Prevention systems also include software products that help software administrators to control what data users can transfer. These softwares help to regulate classified and confidential business information, and identify violations of policies such as HIPAA, PCI- DSS, and GDPR. If any such violations are identified, DLP enforces remediation alerts, encryption, among other protective actions to prevent users from sharing data that could put the organization at risk. Data Loss Prevention can be useful in Compliance or Protecting Personal Information; if your organization collect and store Personally Identifiable Information (PII), Protected Health Information (PHI), or payment card information (PCI), IP Protection; if the organization has important intellectual properties and trade secrets, and Data Visibility; if the organization wants to know how users interact with the data.
Cloud Security: This provides protection for data stored online via cloud computing platform (cloud storage) from threats such as theft, leakage, and deletion. This is beneficial to users who are concerned about the safety of the data they store in the cloud. Methods of providing cloud security include firewalls, penetration testing, obfuscation, tokenization, virtual private networks (VPN), and avoiding public internet connections.
Working from home can be a bitter sweet experience as the convenience it affords us cannot be overlooked. However, the cyber risks it makes us susceptible to are greater. Cyber crimes are on the rise, as criminals are always seeking new ways to accumulate information. As such, data protection is of the utmost importance. With the various forms of cyber attacks that businesses may face, the services mentioned above can be utilized to protect data and prevent cyber attacks. It is always best to remedy these issues by implementing the necessary preventative measures.